Dear Asgardians,
Begin your path toward the true Hero of Frontera with the Start-Up Package.
From 28th March 2013 to 25th April 2013, all newly registered accounts with at least 1 playing character, will be entitled to the Start-up Package, ABSOLUTELY FREE!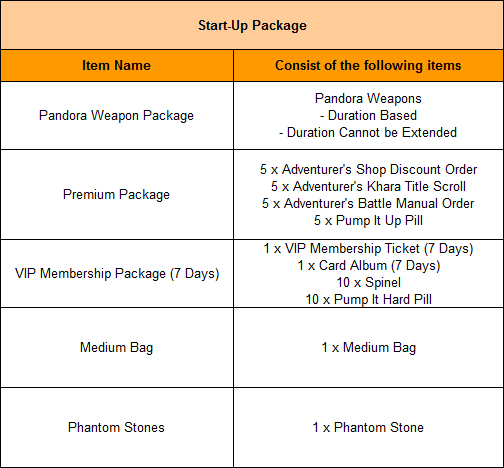 Update as of 28/03/2013, 1615hrs(+8 GMT)▪ Change in Phantom Stone quantity
Here are the benefits you can get from the VIP Membership Ticket.

VIP Membership Ticket(1 Day)
▪ +5 to STR/INT/AGI/WIS/INT
▪ Max HP increased by 10%
▪ MAX SP increased by 10%
▪ Movement Speed increased by 20%
▪ Instance dungeon token (Winner's Point) additional obtain 50% increased
▪ Poring Name Tag
Good luck in your quest to be the true Hero!
-RO2 Administrator.